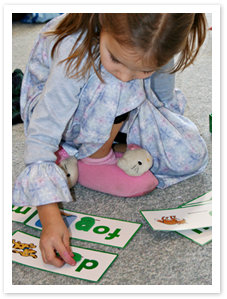 Our mission is to provide a creative and intellectually stimulating environment that will continue the path your child has already begun at Country Children's House Montessori Preschool. Providing over four hours in our school day allows for more in-depth learning. Optimal attention is allowed for each as a result of a low student to teacher ratio of 12:1. A linguistically rich environment will focus on language arts, reading, writing and math.

It is our goal in the kindergarten classroom to build on the academic and emotional development of your child that has so carefully been nurtured during their experience at Country Children's House Montessori Preschool.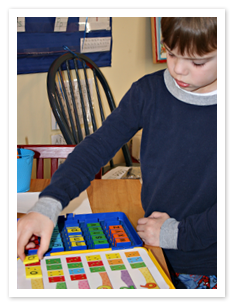 A "peek" into a day in our Kindergarten classroom:

9:15 - 9:45 a.m. - Opening Circle & calendar activities
9:45 - 11:00 a.m. - Language Arts (Reading & Writing)
11:00 - 11:30 a.m. - A subject will be assigned to each day of the week: Music, Art, Science, Geography and Character Education
11:30 - 12:00 p.m. - Lunch
12:00 - 12:15 p.m. - Recess
12:15 - 12:30 p.m. - Story time
12:30 - 1:15 p.m. - Math
1:15 - 1:30 p.m. - Closing

The curriculum is adapted to meet the individual needs and interests of each child.

Language Arts and Math will consist of a brief group instruction time followed by a large uninterrupted "work" period in which each child is given the liberty to choose from a variety of materials depending on their unique interest and level of development. It is during these long blocks of "choice time" that the child's drive for development is honored, providing an outlet for their incredible curiosity, energy, self-motivation and ability to concentrate.


Kindergarten Head Teacher:
Susan Lind has a teaching degree in K-8. Susan taught Language Arts/Practical Life at Country Children's Montessori Preschool for 9 years and is currently teaching her 12th year in Kindergarten at Country Children's House. Having two children go through the preschool program as well as being an educator herself, she realizes the importance of a strong academic Kindergarten program that makes the transition into First Grade an easier and more successful one.


 

Please contact the This e-mail address is being protected from spambots, you need JavaScript enabled to view it to confirm availability for all classes and programs. 
Kindergarten Tuition & Fees
Non-Refundable Registration Fee: 30.00 /yr
 
 
Supply Fee: 70.00 /yr
 
 
5 days - 420.00 /mo